Under Construction
This article is under construction! Help us out by filling in any information you know. Thanks!

This is the building that allows you to level up your character and the members of your entourage.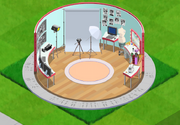 Description
Edit
Work it! If you ever want to work in this town, you'll have to WORK in this town. Visit the Workshop to practice your craft and Level up your Friends!
More Information
Edit
Cost: 1st Workshop is $600, 2nd Workshop is available for 300 diamonds, and the 3rd is available for 750 diamonds.
Time to Build: 15 seconds for 1st Workshop, 2 hours for 2nd Workshop
Unlocked At: 1st Workshop unlocked at start of game, 2nd Workshop unlocked at level 4
Time to Level Up:

Level 2: 15 seconds
Level 3: 1 minute
Level 4: 5 minutes
Level 5: 10 minutes
Level 6: 30 minutes
Level 7: 1 hour
Level 8: 1 hour 30 minutes
Level 9: 2 hours
Level 10: 2 hours 30 minutes
Level 11: 3 hours
Level 12: 3 hours 30 minutes
Levels 13-15: 4 hours
Levels 16-20: 5 hours
Levels 21-25: 5 hours 30 minutes
Levels 26-30: 6 hours
Levels 31-35: 7 hours
Levels 36-40: 8 hours
Levels 41-45: 9 hours
Levels 46-50: 10 hours
Levels 51-55: 23 hours
Levels 56-60: 1 day, 11 hours
Levels 61-65: 1 day, 23 hours
Levels 66-70: 2 days, 7 hours
Levels 71-75: 2 days, 23 hours
Levels 76-80: 3 days, 11 hours
Levels 81-85: 3 days, 23 hours
Levels 86-90: 7 days, 23 hours
Levels 91-95: 8 days, 23 hours
Levels 96-100:9 days,23 hours