There are many different types of buildings in Hollywood U. They have various purposes and functions. Dorms allow you to house new friends for your entourage. The Workshop allows you to level friends. The Admissions Office allows you to admit new friends to your entourage. Amour allows you to send your main character on dates with certain characters. Club VIP allows you to party for new types of characters. The Diamond Boutique allows you to collect extra diamonds. The Couples Corner allows you to have people in your entourage date or break up.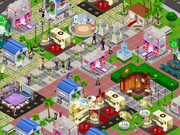 Workshop
Edit
Work it! If you ever want to work in this town, you'll have to WORK in this town. Visit the Workshop to practice your craft and Level up your Friends!
Admissions Office
Edit
Gotta start somewhere. Everyone gets their start somewhere! The Admissions Office is where fresh-faced young hopefuls break into the business to fulfill their dreams! ...or to have them crushed. Up to you.
Warning you can't delete it till you've completed all dates 

Eat, date, love. Any great date starts at Amour, the hottest dining destination in town! Because Hollywood romance happens on AND off the silver screen...
Club VIP
Edit
VERY important. It's not just what you know, it's WHO you know... and anyone worth knowing is on the other side of the velvet rope at Club VIP!
Diamond Boutique
Edit
All the best celebs have a fashion line or a fragrance or something. What better opportunity for you than to start your own jewelry line? Head to the Currency Store to add a Diamond Boutique to your school! Then, make sure to visit every day to collect your Diamonds! After thirty days, your Diamond Store will sell out, but don't worry! You can always restock it!
Couples Corner
Edit
Friends need love too! Send your entourage to Couples Corner to have them date, level up their relationships... or even break them up! You get to play matchmaker and EX-ecutioner!