Action Heroes are a type of classmate. They are a combination of Director, Movie Star, and Fashionista, and they can be placed in any of those dorms. Their help quest is The First Action Hero.
In-Game Description
Edit
Not everyone can deliver clever one-liners as their snowmobile explodes, or display perfect abs when their shirt rips during a chase scene. It takes hard work, true grit, and like a THOUSAND crunches.
Action Heroes can only be placed in the Movie Star Dorm, Director Dorm or Fashionista Dorm.
Earning Rates
Edit
Base Pay Male: $30/hr
Base Pay Female: $31/hr
Partying
Edit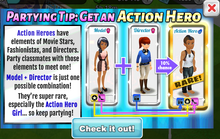 There are several party combinations that will result in an Action Hero. However, it must be noted that the female Action Hero is rarer than the male, therefore it will take more tries using the same student combination(s). As the Action Hero is part Director, Fashionista and Movie Star, any combination of students, so long as they include all three types between them, should work.
Party & Admission Times
Edit
For the male Action Hero, the party time is 6 hours and 30 minutes, while the admission time is 11 hours.
For the female Action Hero, the party time is 22 hours, while the admission time is 22 hours.
The male Action Hero can be purchased in the Store for 1,000 diamonds, while the female Action Hero costs 9,000 diamonds. This simply indicates that the female Action hero is the rarer classmate because she costs more. When selling Action Heros, the male is worth $50, while the female is worth $51.
Composed Of
Edit
Action Hero is a Tri-Type. It is composed of the Movie Star, Director, and Fashionista Traits.